POA – Daring to be extraordinary for you
POA – Daring to be extraordinary for you
POA Pharma focuses on the distribution, marketing, and commercialisation of proprietary, generic, and rare disease products, bringing patients selected products and services across Northern Europe.
With teams throughout Germany and the Nordic region, we are committed to doing all we can to improve lives and benefit the health of all generations affected by a variety of diseases.
POA Pharma network
POA Pharma benefits from being part of the wider Galen Limited network, providing the resources to help deliver high quality products and services to patients in Germany and the Nordic region.
Based in Copenhagen, POA Pharma works every day to be of value to patients. Operating as a specialty pharmaceutical company, POA Pharma has expertise in several therapeutic areas, including Acute Care (anaesthesiology/emergency medicine), Otolaryngology (ENT) and Medical Nutrition. In addition, we have significant experience in Female Care, Gastroenterology and Neurology.
"At POA Pharma, our purpose is to be of extraordinary service to benefit the health of our patients, healthcare professionals, partners, and the wider POA family. We promise to always go above and beyond to meet their needs."
Galen Limited
POA Pharma is part of Galen Limited, a privately owned company established in 1968, with global headquarters in Craigavon, Northern Ireland, and commercial operations based in the UK, Ireland, the Nordics, Europe, and the USA.
Galen Limited was founded in Northern Ireland by the late Sir Allen McClay (d. 2010), the revered philanthropist and entrepreneur, and has since become the proud founding member of the Almac Group.
With 7000+ employees and 18 facilities globally, the Almac Group is now owned by the McClay Foundation, with the overarching aim to make a meaningful improvement and advancement in human health.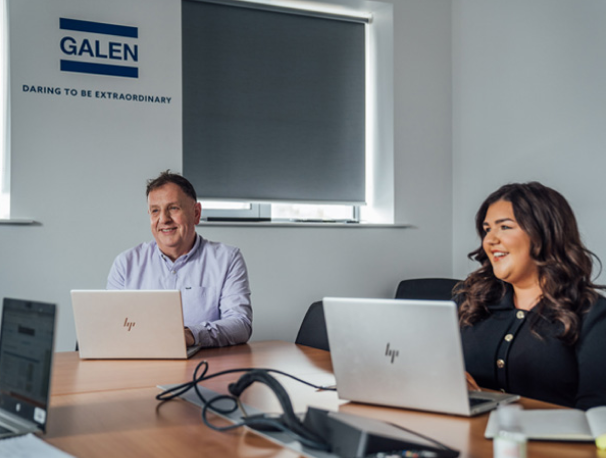 Corporate Social Responsibility
The strategy and activities outlined within this report demonstrate our organisation's current and future commitment to long-term corporate sustainability and positive corporate impact.
Our strategy aims to maximise our efficiencies and promote fair and sustainable business practices, while ensuring we continue to prioritise initiatives with the greatest impact on human health.
Looking forward, we are committed to measuring and expanding our strategy.